Chiusura dei principali tornei del lunedì notte sulle principali piattaforme italiane di poker online, con Tostovip  che si rende protagonista conquistando l'evento Colpo Grosso su 888Poker. Il grinder Her0 non perdona nell'Explosive Sunday di Sisal e Snai (iPoker). Hoomeii si impone sulla room Betaland (People's Poker) aggiudicandosi il Super Sunday.
€100 Explosive Sunday PKO: notte da "Her0"
"Her0" è il fresco vincitore di un torneo importante come l'Explosive Sunday di iPoker delle poker rooms Snai e Sisal. L'evento si è concluso con un montepremi effettivo di €40.950. Al primo classificato sono andati €5.750.
Hanno partecipato 450 players grazie anche a una late registration molto lunga.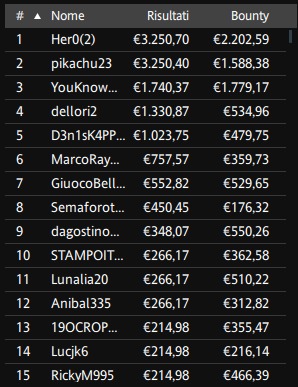 "Tostovip" firma il Colpo Grosso su 888Poker
Su 888poker il lunedì notte è soprattutto "Colpo Grosso" un evento da €7.500 GTD. Al via 52 players per un prize pool da €8.200. A primeggiare è stato "Tostovip" che ha piegato in heads-up "quartuno". Nessun deal al final table.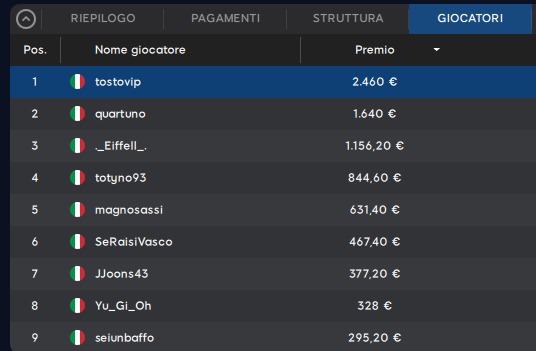 €50 Super Sunday: hoomeii è l'uomo della serata di People's
Sulla poker room Betaland (piattaforma People's Poker) si rende protagonista nel day 2 del Super Sunday "hoomeii" che incassa €2.858. Runner-up  "rock_" che mette comunque al sicuro il secondo premio da €2.040.
Comparatore Bonus
Questo comparatore confronta i bonus di benvenuto attualmente verificabili sui siti degli operatori italiani. Questa tabella ha una funzione informativa e gli operatori sono mostrati in ordine casuale.
Al via 127 giocatori per un montepremi da €12.500.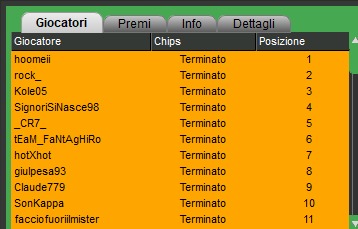 €50 The Gladiator partypoker: ToPDoggg non perdona
Su partypoker è tornato The Gladiator con garantito da €2.500. 57 players ai nastri di partenza per un montepremi di €2.565.
Vittoria per "ToPDoggg" (€314+€498) davanti a "PallaDiFuoco", secondo per €314+€96.